~ SECTION 6 ~

Back to Basics
If Joseph Smith, Jr. can accurately be called a 19th century confidence man, should that fact alone discourage the Latter Day Saints from fully supporting and promoting their church? After all, Smith lived long ago and his activities as a treasure seer have been practically forgotten by the modern members of the church he founded. Among the Christians, it might be remembered that there was a similar problem in the early career of Saul of Tarsus -- before he became the "Apostle Paul." If Christians can forgive and selectively forget Paul's problematic pre-baptismal affairs, could not Mormons do much the same in the case of Joseph Smith?

Apparently not. Other than a couple of long discarded remarks about Smith's money-digging, offered by Brigham Young, the Mormon leaders seem content in avoiding this issue. Smith, after all, provided his own story of purported boyhood visions and revelations, and that account is published by the LDS Church, in its Pearl of Great Price, as sacred scripture, manifesting the Holy Word of God. In that story (and associated disclosures), Joseph Smith never admitted to having been a treasure seer, a fortune-teller, a magician-juggler, or a deceiving con artist. St. Paul could candidly express remorse over his pre-baptismal, counter-Christian acts; but Joe Smith never confessed any sins meriting similar remorse.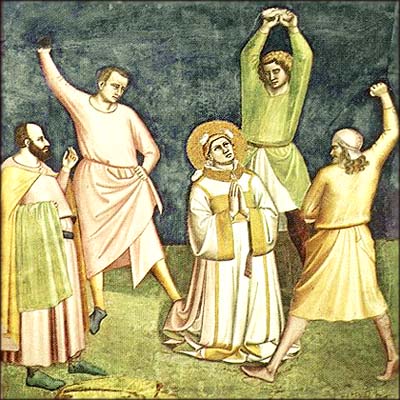 Detail from Bernardo Daddi's Martyrdom of St. Stephen (Paul on the left)
In Smith's telling of the story, his only transgression worthy of mention was a temporarily frivolous attitude and his only distraction from a prophetic calling was a temporarily unsuccessful excavation of an old silver mine. In other words, if Joe Smith began his career as a con man, he must have retained at least one aspect of a con man's deception, in telling and re-telling his own past story. Given the fact that Smith later used deception to cover over his personal secret polygamy, the student of Mormon history has reason to suspect his imperfect honesty in other instances as well.

Herman Melville's proffered insights respecting a confidence man and "his masquerade," might provide the Mormons with considerable cognitive cover, if the need ever arose to justify Joseph Smith's reported deceptions and manipulations. It remains to be seen whether or not LDS writers will ever attempt interpreting Herman Melville in order to better explain Joseph Smith.

Continuing with the topic of Smith, Melville and modern LDS writers, this statement from Richard D. Rust may be germane:
Herman Melville, according to noted literary critic R. W. B. Lewis, was "the one novelist in nineteenth-century America gifted with a genuinely myth-making imagination." Joseph Smith similarly has been considered by the distinguished literary critic Harold Bloom to be "an authentic religious genius [who] surpassed all Americans, before or since, in the possession and expression of what could be called the religion-making imagination." Yet Melville belonged to what Lewis called the party of Irony, while Smith could be considered to belong to the party of Hope. Melville had deeply probing questions; Smith, thinking as deeply but also calling on revelation, had answers to many of the very questions Melville posed.
(Richard Dilworth Rust, "'I Love All men Who Dive:' Herman Melville and Joseph Smith," R. L. Neilson & T. L. Givens (eds.) Joseph Smith, Jr. Reappraisals after Two Centuries. (NYC: Oxford Univ. Press, 2009) p. 358.)
If this conclusion can be cited as representing contemporary Mormon opinion, then the realizations of intellectual or spiritual inquirers like Herman Melville might approach in wisdom those typified by the "religion-making imagination" of Joseph Smith, Jr., but only the Divine "revelation" uttered by Smith himself can provide the explanations, truth or perfection these lesser minds seek to have communicated. Rust thus has Melville posing "deeply probing questions" and Smith providing the "answers," inspired and facilitated by "revelation." If this is so, then we might ask why Herman Melville did not simply affirm Joseph Smith as the great latter day prophet?

Under his sub-title "Melville and the Mormons," Rust shows that Melville knew enough about Smith and Mormonism to incorporate some of that understanding into novels like Mardi, Pierre and the Confidence Man. Rust also intimates that these two great 19th century American thinkers (Smith and Melville) were much alike -- practically twin minds, in their inclinations and abilities. If "Melville found something commendatory in the Book of Mormon," (as Rust argues), then what quirk of misunderstanding was it that kept Herman Melville in the shadows of "irony," while Joseph Smith's inherent brilliance beamed forth as the latter day oracle of "hope?" According to Rust, Melville lacked the wonderful gift entrusted to Joseph Smith: continuing Divine "revelation." Is this a credible assertion? If we are to get back to basics now, we must begin by asking a very important question --


What is Revelation?

Had Joseph Smith lived long enough to have read Moby Dick, what impression upon his prophetic "religion-making imagination," would Melville's Chapter 35 have left? That episode in the great white whale story is entitled "The Mast-Head," and will probably serve as a decent example of what the experience of "revelation" was to the former sailor-turned-novelist. Perhaps Smith, who believed that God in His anger, had "decreed... many destructions upon the waters," would have shown little interest in the seaman's lookout experiences in a crow's nest. Then again, its was reported of Smith, that the first time he gazed into his seer-stone, he "discovered that time, place and distance were annihilated." If this was really Smith's experience of "second sight," perhaps he would have empathized with Melville's mystical mast-head standing:
...turn we then to the one proper mast-head, that of a whale-ship at sea. The three mast-heads are kept manned from sun-rise to sun-set... In the serene weather of the tropics it is exceedingly pleasant, the mast-head; nay, to a dreamy meditative man it is delightful. There you stand, a hundred feet above the silent decks, striding along the deep... There you stand, lost in the infinite series of the sea, with nothing ruffled but the waves. The tranced ship indolently rolls; the drowsy trade winds blow; everything resolves you into languor.... I used to lounge up the rigging very leisurely, resting in the top to have a chat with Queequeg, or any one else off duty whom I might find there... Let me make a clean breast of it here, and frankly admit that I kept but sorry guard. With the problem of the universe revolving in me, how could I -- being left completely to myself at such a thought-engendering altitude -- how could I but lightly hold my obligations to observe all whale-ships' standing orders...

Very often do the captains of such ships take those absent-minded young philosophers to task, upbraiding them with not feeling sufficient interest in the voyage... But all in vain; those young Platonists have a notion that their vision is imperfect... lulled into such an opium-like listlessness of vacant, unconscious reverie is this absent-minded youth by the blending cadence of waves with thoughts, that at last he loses his identity; takes the mystic ocean at his feet for the visible image of that deep, blue, bottomless soul, pervading mankind and nature; and every strange, half-seen, gliding, beautiful thing that eludes him; every dimly-discovered, uprising fin of some undiscernible form, seems to him the embodiment of those elusive thoughts that only people the soul by continually flitting through it. In this enchanted mood, thy spirit ebbs away to whence it came; becomes diffused through time and space; like Cranmer's sprinkled Pantheistic ashes, forming at last a part of every shore the round globe over. There is no life in thee, now, except that rocking life imparted by a gently rolling ship; by her, borrowed from the sea; by the sea, from the inscrutable tides of God. But while this sleep, this dream is on ye, move your foot or hand an inch; slip your hold at all; and your identity comes back in horror. Over Descartian vortices you hover. And perhaps, at mid-day, in the fairest weather, with one half-throttled shriek you drop through that transparent air into the summer sea, no more to rise for ever. Heed it well, ye Pantheists!
But is this the stuff of "revelation?" Where in all of this being "diffused through time and space" (Prophet Smith might demand) is the requisite, plenary and propositional "Thus saith the Lord God of Israel...?"

If Melville could have been cajoled into a responsive answer, perhaps he would have alluded to how the "absent-minded youth... loses his identity," to the end that nothing remains to report, save "Pantheistic ashes." Then again, the great novelist himself might have wondered from whence came his "elusive thoughts" and profound insights, undreamt of yesterday and all the days before?

Another example from Moby Dick: this one from Chapter 34 (The Mat-Maker):
It was a cloudy, sultry afternoon; the seamen were lazily lounging about the decks, or vacantly gazing over into the lead-colored waters. Queequeg and I were mildly employed weaving what is called a sword-mat, for an additional lashing to our boat. So still and subdued and yet somehow preluding was all the scene, and such an incantation of revelry lurked in the air, that each silent sailor seemed resolved into his own invisible self.

I was the attendant or page of Queequeg, while busy at the mat. As I kept passing and repassing the filling or woof of marline between the long yarns of the warp... I say so strange a dreaminess did there then reign all over the ship and all over the sea... that it seemed as if this were the Loom of Time, and I myself were a shuttle mechanically weaving and weaving away at the Fates. There lay the fixed threads of the warp... This warp seemed necessity; and here, thought I, with my own hand I ply my own shuttle and weave my own destiny into these unalterable threads.... this easy, indifferent sword must be chance -- aye, chance, free will, and necessity -- wise incompatible -- all interweavingly working together.
Would Joseph Smith have fathomed such an ecstatic insight as "revelation?" Probably not. Smith's perspective on such matters might better be summarized in the inarticulate prose of Father Lehi in 2nd Nephi:
the Messiah cometh in the fulness of time, that he may redeem the children of men from the fall. And because that they are redeemed from the fall they have become free forever, knowing good from evil; to act for themselves and not to be acted upon
What prophetic elements are present in this example, but lacking in the excerpt from Melville? (1) A rigid Christian theological framework: Even though Lehi gives voice to revelation centuries before the birth of Jesus, his oracle is replete with the Christology of the early church. For Joseph Smith (an inveterate Bible reader and hyperliteralist), the "spirit" of prophecy and revelation was necessarily "the testimony of Jesus." (2) Definite Divine authority: Lehi was designated the prophet of God. Although some of the men subject to his patriarchal control (Nephi, Jacob, etc.) might also communicate revelation, all who did so were subject to his counsel and criterion. (3) A word-for-word, unerring communication from the biblical God. (4) The requirement that any new oracle must be compatible with all prior revelation.

When Rust speaks of Joseph Smith having the gift of "revelation," that provides the proper answers to Herman Melville's questions, the above example is what he must have in mind. In Smith's case, his purported authority was conferred and manifested at the very highest level. Smith was God's sole voice on earth, for communication to the nations and to the "House of Israel" (Mormons, Indians, Jews). Any other instances of "revelation" were communicated at a lower level, through Smith's designated deputies, to individuals, families, etc. Given this thoroughly Mormon understanding of "revelation," it is remarkable that Rust would publish his exclusive religious tenets to a mixed readership of Oxford University Press customers. Perhaps he wrote originally for an LDS audience and his editors are the ones to be faulted for the preferential proselytizing evident in this 2009 dissemination.

If "revelation" is the plenary, propositional communication of God's Holy Word, repeated verbatim, then we might here pause to ask what role Smith's own faculties played in the formulation of his religious and philosophical teachings. Rust quotes a non-Mormon's praise of Smith's "imagination," but does not explain the basis for that praise very clearly. The question naturally arises --


What is Imagination?

If Smith was the "authentic religious genius" whose excellence "surpassed all Americans, before or since;" and whose "religion-making imagination" was unparalleled; then is Rust hinting that even the "imagination" of Joe Smith was Divinely inspired? Did Smith's marvelous imagination extend so far as to the writing of mysterious fiction (as did Melville's marvelous imagination)? One dictionary definition of "imagination" reads: "The act or power of forming a mental image of something not present to the senses, or never before wholly perceived in reality;" but an alternative meaning is: "a creation of the mind... [a] fanciful or empty assumption."

One of Joseph Smith's early followers (Elder Ebenezer Robinson), who knew Smith personally, reflected in later years upon the Mormon leader's avowed "superior personage."
Persons receiving... blessings under the administration of Joseph Smith, very naturally looked upon him as more than an ordinary man; and when with him, felt they were in the presence of a superior personage. This feeling, instead of being checked, was intensified, when... a revelation was received through him, commanding the church to receive his word as from the mouth of God...: "For his word shall ye receive, as if from mine own mouth, in all patience and faith; for by doing these things the gates of hell shall not prevail against you." Under these circumstances, the feeling prevailed that his [Smith's] word should be received as law....

[Several of Smith's doctrines], coming from such a source, could not fail to bear evil fruit, as is evidenced by the subsequent course pursued by the church. It began to be frequently talked by the people, that what we formerly considered sin was not sin. This had a direct tendency to lower the standard of vital piety, which the masses of the people were endeavoring to maintain.
"Items of Personal History of the Editor No. 17," The Return, II:9 (Sept. 1890)
Notice the sequence of events in the development of Joseph Smith's alleged religious (and temporal) authority, as reported by Elder Robinson: (1) Mormons felt blessed to be Smith's followers and considered him "a superior personage;" (2) Mormons accepted "revelation" communicated by Smith as God's Word; (3) In an early "revelation" God purportedly commanded Smith's followers to "receive his (Smith's) word as from the mouth of God;" (4) Thenceforth Mormons received Smith's teachings as Divine law; (5) The doctrines subsequently taught by Smith lowered the "vital piety, which the masses of the people were endeavoring to maintain."

At what point did Smith's "religion-making imagination" become identical with "revelation" uttered "from the mouth of God?" Probably Smith himself would have answered, that when he spoke as a prophet, he was a prophet -- at all other times he was merely an "authentic religious genius" whose excellence "surpassed all Americans, before or since;" and whose "religion-making imagination" was unparalleled. In other words, Smith own word was the determining factor in separating "revelation" from inspired "imagination," and -- by revelation -- Smith's word was to be received as from God's "own mouth!"

No wonder that Herman Melville never paid obeisance to Joseph Smith, Jr. in his many novels and other writings! No wonder that the strongest hint of a Joseph Smith appearance in a Melville story is the "man in the gray coat and white tie" in The Confidence-Man, the pious-sounding con artist whose encounter with "a charitable sister" was based upon the figure of the LDS Patriarch William Smith!

And, no wonder that the single allusion to things Mormon in Herman Melville's writings that Richard Dilworth Rust passes over without any discussion is the "man in the gray coat and white tie" -- the one Melville character whom Martin Blythe identifies as the con man figure that "some have taken to be a portrait of Joseph Smith, although he could be any of the avatars really." An astounding thought -- that although the "man in the gray coat and white tie" is the con man closest in appearance to Joe Smith, any of Melville's deceiving frauds in the story might be closely compared to the first President of the Church of Jesus Christ of Latter Day Saints!


Afterthought

In July of 1844 -- shortly after Joseph Smith's life was taken -- Elder Willard Snow was reported in the Nauvoo newspaper, as having recently addressed a Mormon conference and having testified of "a dream, of President Joseph Smith's, dreamed about fourteen years ago, viz: 'That his name should be had for good and evil, among the nations and kingdoms of the earth, and that they would seek his life from city to city, and speak all manner of evil against him falsely.'" Whether this was the content of an actual dream related by Smith, or an example of prophecy after the fact, concocted by the leaders in Nauvoo, would have mattered little to the searching eye of Herman Melville. His delight no doubt would have rested upon the ambiguity of Smith's reputation.

Our interest in the Confidence Man springs from just such an environment of incertitude. Those enrolled in the "party of Hope" may accept the confidence he pedals as totally trustworthy. Those joining the "party of Irony" may reject both the con man and his dupes. And those of us who stand back, attempting to weave a broader fabric, can perhaps fit our loom of life with a copious supply of both yarns. What pattern then might emerge, as we inspect a tapestry stretching from Sharon, Vermont to Nauvoo, Illinois? What confidence brought all of those strands together into a single lifestory? What confidence holds them together, after all these years of controversy, conflict and contentment in the Saga of the Saints?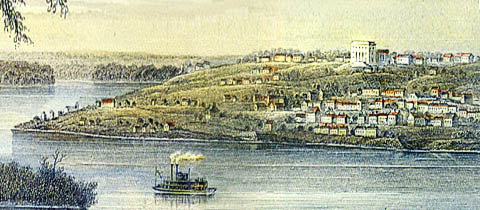 Was Joseph Smith, Jr, a 19th century con man? -- a religious fraud? -- a pious fraud? If he was any of these, he possessed an "imagination" greater than Mohammed's and perhaps greater than St. Paul's, as the American confidence-builder who "surpassed all... before or since." He deserves a unique place in Melville's mythology. According to Martin Blythe, Melville evidently granted this 19th century money-digger-turned-Moses just that -- a definite "place" on the mythic map. In the novel Mardi the searching voyagers come at last to Serenia, where life is lived according to the precepts of the prophet Alma. It is the seekers' final resting place: all of them (save for a single dissenter) embrace the one true religion and become "enthusiasts... who pretend to the unnatural conjunction of reason with things revealed; where Alma, they say, is restored to his divine original; where... men strive to live together in gentle bonds of peace and charity." Does Melville drop hints of suspicion with the words "pretend" and "unnatural?" Ought we to gaze a bit askance at this "charity," which we have encountered all too often in the parlance of Melville's many confidence men?

Perhaps so. Blythe says: "The island of Serenia in the novel could well be Nauvoo."

A message from men who strove to "live together in gentle bonds of peace and charity," dated Serenia Nauvoo, June 7, 1844:
our petitions were treated with contempt; and in many cases the petitioner spurned from their presence, and particularly by Joseph, who would state that if he had sinned, and was guilty of the charges we would charge him with, he would not make acknowledgment, but would rather be damned; for it would detract from his dignity, and would consequently ruin and prove the overthrow of the Church. We would ask him on the other hand, if the overthrow of the Church was not inevitable, to which he often replies, that we would all go to Hell together, and convert it into a heaven, by casting the Devil out; and says he, Hell is by no means the place this world of fools suppose it to be, but on the contrary, it is quite an agreeable place; to which we would now reply, he can enjoy it if he is determined not to desist from his evil ways; but as for us, and ours, we will serve the Lord our God!